When you're thinking about the birth of your baby, you don't really think about your own post-partum recovery. Everything is about preparing for the baby... diapers, wipes, burp cloths, etc. But you also have to be thinking about YOU. So if you're giving birth naturally (non c-section) you are going to be
pretty
sore down unda if you know what I mean. And thankfully, mother nature has the perfect recipe that will give you some major relief for that little heiny of your's.
With the use of specific herbs and flowers, a sitz bath is used to help promote healing, keep things hygienic and give an overall sense of relaxation. They are usually done, well, in the bath and you soak in it. But when you take the same herbs, spray them in an overnight feminine pad and freeze it... it's just about the most glorious thing your incredibly sore post-partum bottom will ever dream of.
What you'll need:
Large, maxi over night pads.
Your sitz herbs (recipe below)
Peri bottle
Small bowl
Large bowl
(If you don't have the time or the resources to make your own sitz herbs, you can buy them pre-made
online
, at your local Whole Foods or the like. Or, you can soak your pads in good ol'
witch hazel
instead.)
Sitz Herbs Concoction: (I got this pack from a doula here on the North Shore)
1/4 Cup of the following dried herbs and flowers (give and take with what you can find. The highlighted ones are the most commonly used and would be the most important ones to find):
Blue Violet
Burdock
Calendula- analgesic, anti-inflammatory, bactericidal, cicatrisant, used to treat cuts, wounds and sensitive skin.
Chamomile
Comfrey- speeds healing, soothes wounds an reduces itching and pain.
Lady's Mantle
Lavender
Lemon Balm
Myrhh- helps your herbs to stay fresh.
Plantain
Sage
Uva Ursi- natural antibiotic
Witch Hazel- astringent
Yarrow- astringent and anti-bacterial
Sea Salt
Directions:
1. Boil 1/3 cup of the dried herb mixture with 4 cups of water. Simmer for at least 20 minutes. You can turn the burner off, remove from heat and cover with a lid to let it steep for up to 2 hours. If you don't have that much time, the simmering for 20 minutes will do.
2. Strain and let cool.
3. Grab a small bowl, your overnight sized pads and your peri bottle. Fill the peri bottle up with the sitz herbs.
4. Over the large bowl, squirt the liquid herbs on the pads. My midwife says she skips the peri bottle part and just dips the whole pads in the liquid. If you don't have a peri bottle, just do that. After I soaked them, I put back the sticky parts and placed them in layers in a small bowl.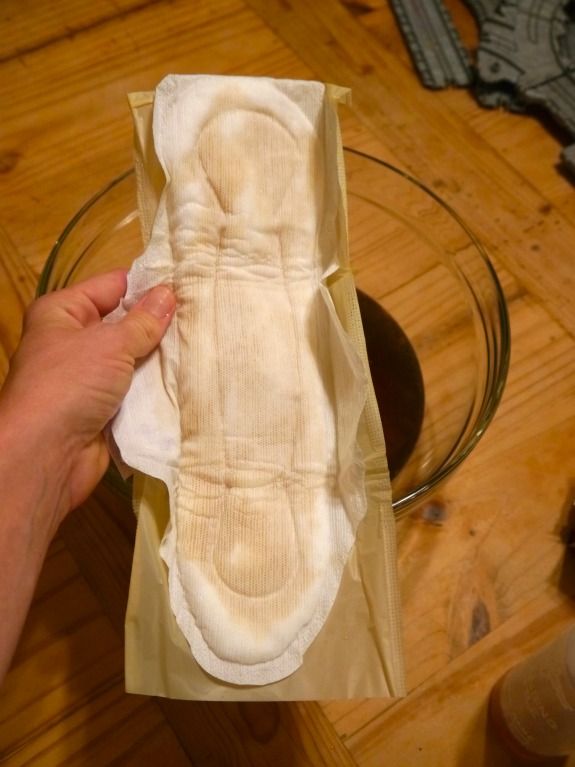 5. Once you've finished the whole pack/herb liquid and piled them in the bowl, place them in the freezer. The reason we use the bowl, is to keep the proper shape that you'll need the pads in. Sometimes if you freeze them and fold them back up, when you open them to use, they crack. Once they're frozen, you can place them in a large zip-lock bag and do another batch.
You can also use the same herb liquid (I would water it down a bit to extend it's usage) and save it in the fridge in a pitcher or something. After you give birth, have someone fill up your peri bottle and use this instead of just water to help with the healing as well.
Here's to healthy babies and easy recoveries!
With love,
Maryam