While I'm away drowning myself in our brand new baby
Ocean
, I asked a few other bloggers if they'd help keep you all company. I was very pleased to get so many responses because that means I can enjoy this little guy for that much longer.
I am honored to have Monica guest posting today! Her and I met through the interwebs (I think it was a reader here who pointed me to her blog) and I feel so lucky to have this woman in my (real) life. Thank you so much Monica!
Aloha! I'm Monica, and I am one of the many grom moms on the North shore of Oahu. Groms are what we call the kids who skate and surf. I'm pretty crazy about my family.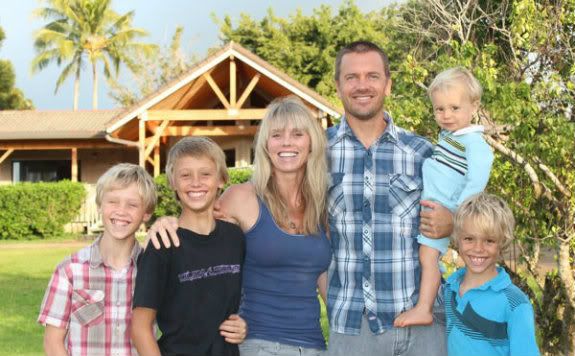 We are a homeschool family and our boys range in age from 12, to 2. (specifically, 12, 10, 8 and 2.) I was excited when Maryam invited me to share a "
day in the life
" because I've never done that, and I knew it would be interesting. It really has! In fact, my first thought as I started putting this together was that people might not believe me. I mean, when I stop to look at all my boys do on a typical day, I can hardly believe it! They really do pack it in…which in turn means my husband and I also pack it in…Which is why blogging about it all is so much fun. (And also why I sleep so hard at night! ) So, here's what we do on a
typical summer
(non-school)
day.
Note: When
we do
school, the day is pretty much the same, only we wake a bit earlier,
pack school in the middle
, and try (I repeat TRY) to go to bed a bit earlier. Also note: My husband is a doctor who works in shifts... he works without a day off for a few weeks, then he is off work for a stretch of time every month. (
love that part!
) Even on his work days he makes himself very available to either shuttle boys around EARLY, (before work,) or get them out to train and play after work... SO, here goes. This is a t
rue story, cross my heart:
EARLY morning surf for Dave and three oldest boys. Goal: Be up with the sunlight. Be on the waves before the crowds.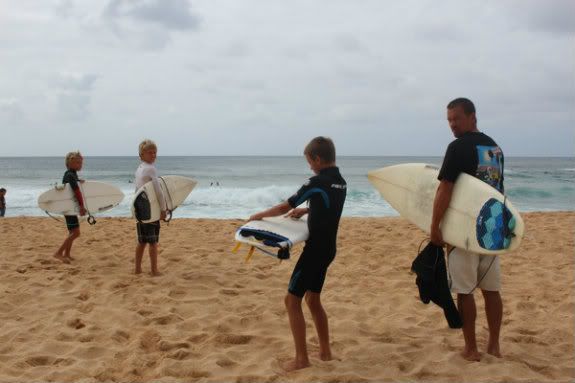 Luke, 8 years old: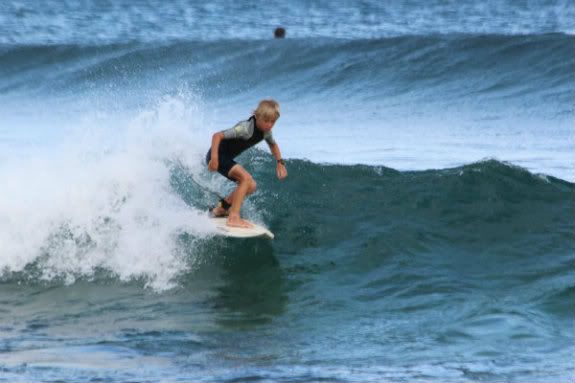 Josiah, 12: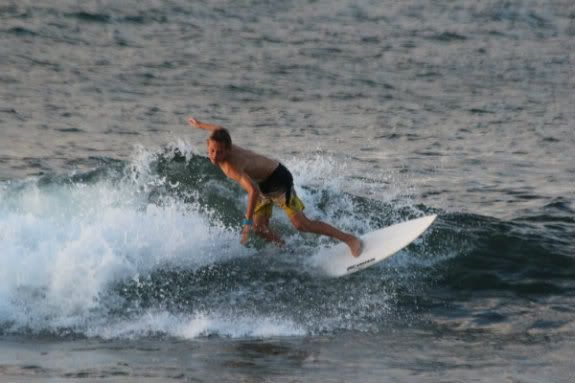 The boys have been surfing since they can remember. They love it. Levi and I start more slowly. Breakfast, books, and on a good day I go running. Four days a week Sandra, our sitter helps out, so she and I teamwork everything. (Thank God for her!) Home mid-morning: Long, hot outdoor showers. Solar hot water is a good thing.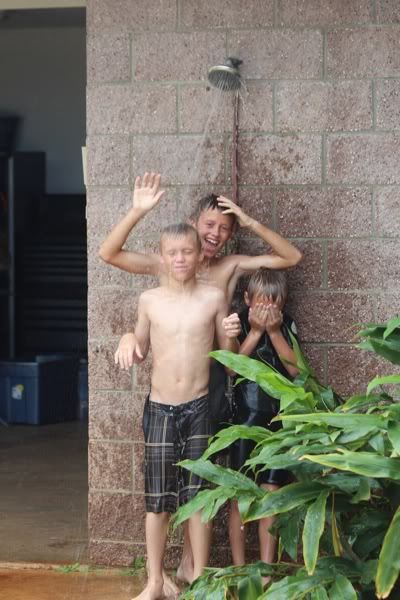 Boys take some time to do chores,
make youtube videos of their mornings session
, and climb trees. Levi and Dad put some time on the tractor: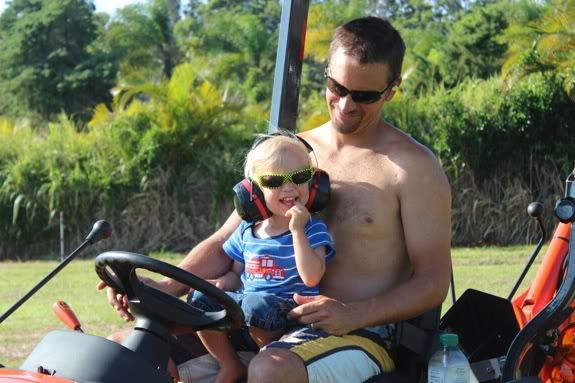 Downtime, midday: Friends, dogs, and a lot more outside time.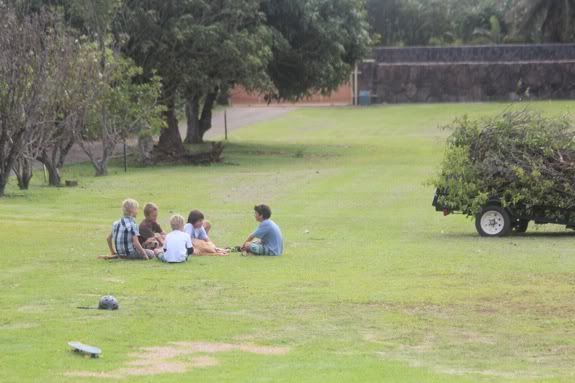 By afternoon, they're back out--usually at the skate park: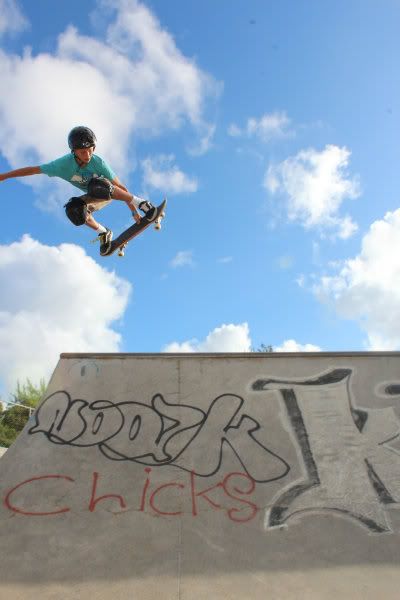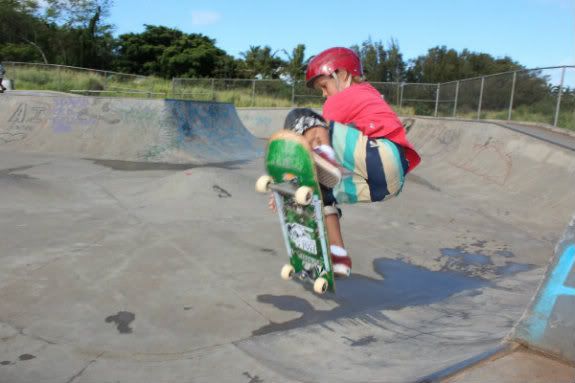 Skate Park Groms: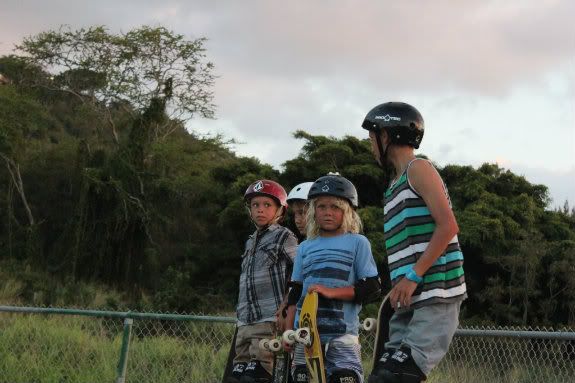 If the boys get their way, we'll make a stop for shave ice before we move on.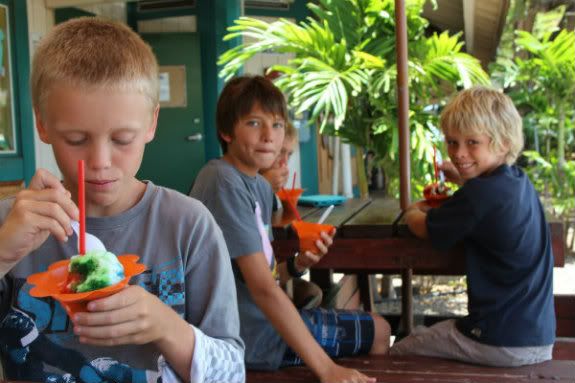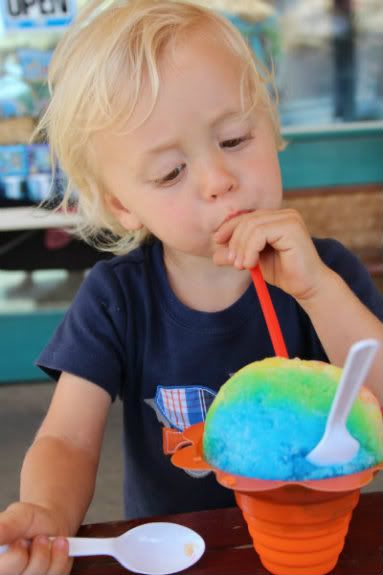 Often, we end up with a late afternoon trip back to the beach: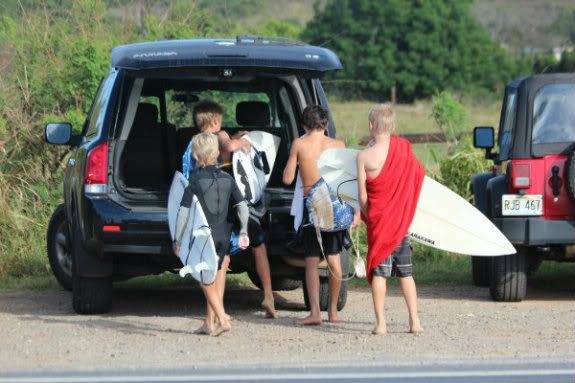 Jonah, and Luke: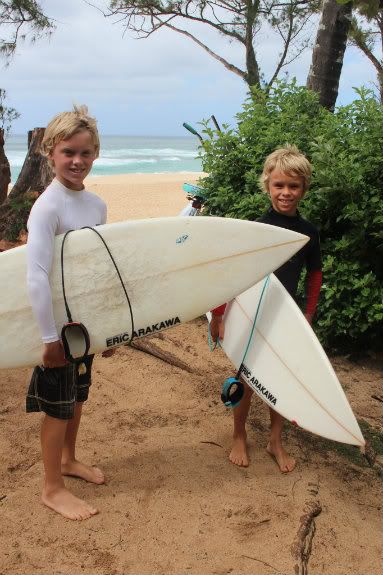 Jonah, 10: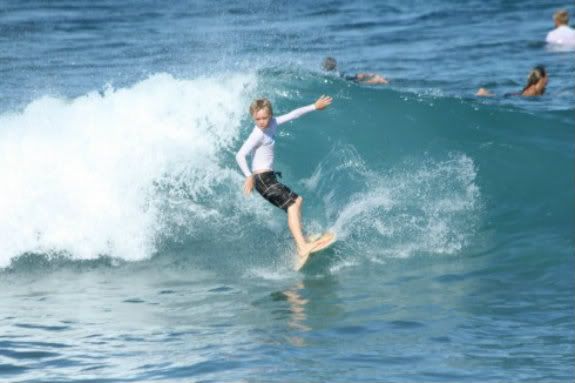 Sandra and Levi LOVE beach time: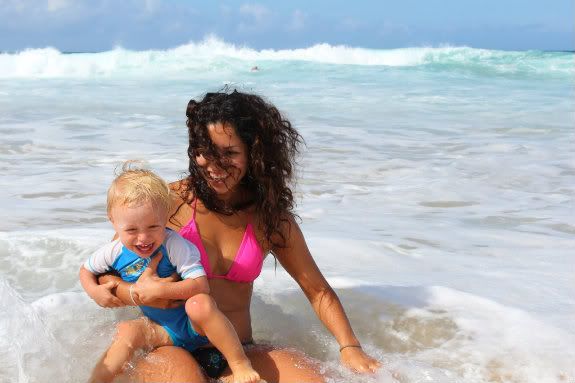 When the waves die down, we'll take time for water play with Levi before the day is done. Stand-up paddle boarding, or just playing in the water. Dad is in the water every chance he gets!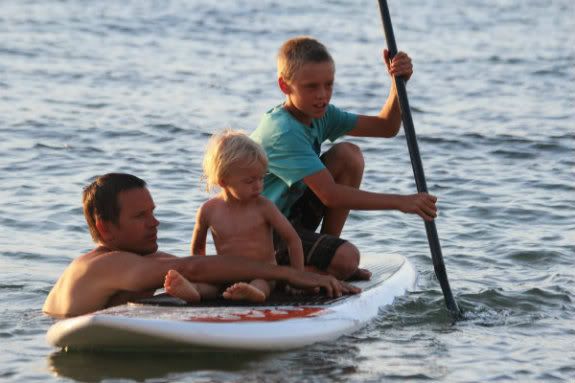 And finally home for sunset, and dinner on the deck: (The crock-pot or simple barbeque dinners are best for these long days and hungry boys.)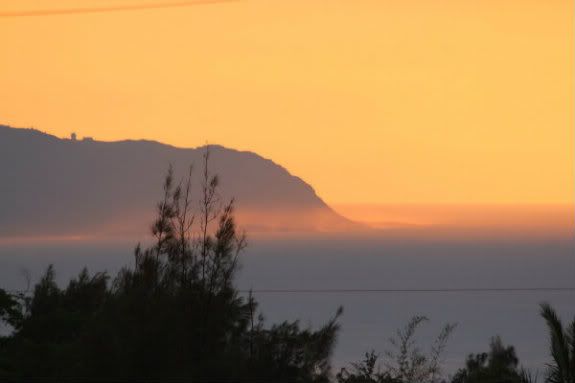 No surprise, we're all pretty tired by the end of the day: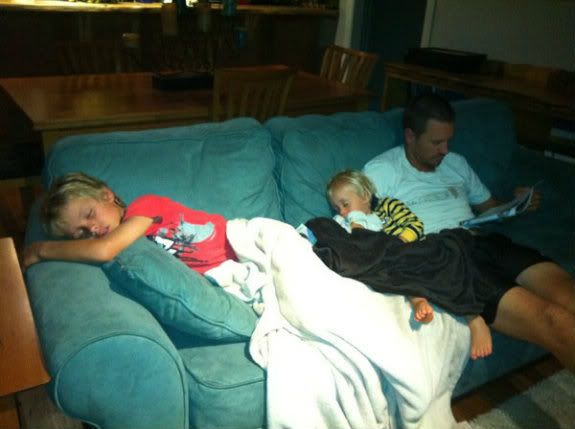 Kids go to bed, Dave has work or reading to do…and that's when I get to hop on the computer to blog about our day… Before it all starts again bright and early the next day!
That was a true story. And I am pooped out just writing about it! Thanks for following along. I hope you'll stop by my site to check in sometime! And if you do come by, you can see the awesome new design Maryam did. She transformed my site, and I love it!
Aloha!
Monica, The grommom.